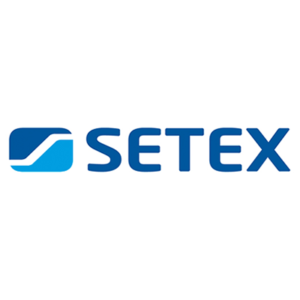 SETEX Schermuly textile computer GmbH
German companies
Summary
| | |
| --- | --- |
| Short Business Description | SETEX offers smart software & machine controls with major third-party brand partnerships for sustainable and efficient textile production. |
General information
Company profile

As pioneers of microprocessor technology in textile machine control and based on the knowledge and experience of 30 years of cooperation with machine builders and manufacturers in the textile industry, you can find our customers worldwide in 76 countries on 6 continents.
Our brand architecture is built on two strong structures – our controller and sensor business, which supports OEM machine manufacturers in enforcing their machines, and our IT-software business that bundles comprehensive finishing process competencies in the production environment.
We have established technical solutions with major third-party brands, allowing for extensive data flow from the color lab to production, dosing, energy systems, and especially ERP.
As a globally active and owner-managed family business with its own manufacturing facility in Hessen, Germany, SETEX combines technical know-how with comprehensive services and exceptionally long-lasting spare parts availability.

Products & Services

The SETEX product portfolio includes machine controllers, online and handheld optical inspection systems for fabric density, and the OrgaTEX MES platform.
Our SETEX E390 controllers are offering real-time KPIs, intuitive mobile-like usability, web visualization, and IoT functionality.
The OrgaTEX MES platform provides intelligent production specifically for dyeing companies, offering agile process optimization, planning, scheduling, business intelligence analytics and active energy management, providing a new dimension in exchange of data, functions and supply chain transparency.
CamCOUNT is the SETEX system for non-contact process control of stretch, shrinkage and overfeed in textile finishing. The system controls machine parameters via camera sensors to achieve the specified number of threads and stitches.
We have partnerships with the two dominant suppliers of color management and ERP solutions for the textile industry, to provide customized solutions from top experts.

References and export activities

SETEX is a leading provider of production and performance management solutions for the textile industry, with a presence in 76 countries across six continents.
Our 1250+ OrgaTEX systems sold worldwide automate dyeing and finishing, and as system partner of bluesign®, we ensure the best available technology.
We also have an exclusive interface to the recipe calculation software of the world-leading color management company.

Target group

Textile machine manufacturers.
All textile dyeing and finishing companies, any size, interested in a perfectly matched integrated digital workflow to realize production efficiently and sustainably.

Competitive advantages

Full solution provider for the conversion of existing machinery along the textile finishing chain to modern control and networked processes for holistic digital central production control with premium system partner standard solutions
Latest developed, modern and comprehensive production process and recipe software with self-optimizing treatments and parameters, based on formula wizard know-how-management.

Ideal Business Partners

Textile machine manufacturers.
Textile dyeing and finishing companies that are about to purchase new machinery to be integrated into a centralized management system.
Plants, where the inventory machines are to be integrated into a central management system.
Manufacturers that want to know their actual production KPIs and process parameters to become more productive, sustainable and compliant.
Company information
| | |
| --- | --- |
| Company name | SETEX Schermuly textile computer GmbH |
| Street | Hauptstr. 23 |
| Zip code | 35794 |
| City | Mengerskirchen |
| Country | Germany |
| Internet / Website | |
Contact person
| | |
| --- | --- |
| Title | Mr |
| Name | Arnd Decker |
| Position | Sales Manager |
| Personal E-Mail | |
| Phone / Mobile | |
| Language | English, Deutsch |