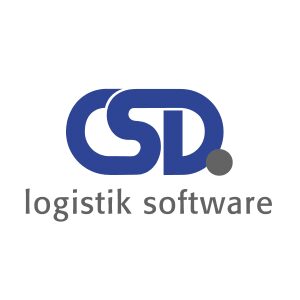 CSD Transport Software GmbH
German companies
Summary
| | |
| --- | --- |
| Short Business Description | The company offers the right TMS software solution for all needs and business sizes. |
General information
Company profile

CSD has been a sought-after partner for supply chain management software since 1995. Whether it's a small forwarding company or a global corporation – CSD offers the right software solution for all requirements and every size of company. The success of CSD is based on well-founded logistics knowledge, IT know-how and innovative strength. With this interdisciplinary competence, we offer you high quality and numerous powerful functions in our modules.
Transport planning with sustainable cost reduction – For the complete, uniform order processing of logistic services. A powerful software combined with state-of-the-art methods and an easy-to-use, intuitive user interface for all logistic and transport-related needs. Structured planning and continuous optimization at a strategic, tactical and operational level leads to a significant reduction in transport costs.

Products & Services

Across all transport routes (land, sea, barge, air), CSD offers all the necessary modules to carry out all transport and logistics processes in one system. All modules can be docked to existing software systems or external systems such as temperature sensors, scales, scanners, cameras, gates can be connected. The essential modules for our customers are:
– Contact management
– Offer management with pre-calculation/post-calculation
– Contract management
– Order management with billing, credit notes and third-party invoice control
– Strategic route planning for trucks and trains
– Creditworthiness and anti-terrorist list check
– Container management and depot management or terminal management and control
– Scheduling with T&T
– Document management
– claims processing

References and export activities

 SBB CARGO AG Complete TMS incl. billing http://www.sbb.ch ;  TCU GmbH & Co. KG Forwarder for trains and trucks http://www.tcu.de;  Transmed Transport GmbH Transport of pharmacies http://www.transmed.de;  7Days Media Services GmbH transport company for groupage and FTL http://www.7days-media.ch.

Target group

The target group are all manufacturing companies that either move goods within the company or have to be transported from the manufacturers of supplier products to the company or their own products to customers. The second large target group are freight forwarders and transport companies in the truck, rail, sea and air sectors.

Competitive advantages

CSD implements Logistics 4.0 projects with its modules. Among other things, at transmed fully automatic supply chains with 4,700 vehicles in the inner city area that drive up to 13,000 tours a day. The CSD also controls areas such as customs clearance or online temperature checks of the goods / containers.

Ideal Business Partners

The CSD is searching for a partners who use the CSD modules for their projects. There are no direct customer target groups for modules. CSD has market advantages above all in the area of ​​intermodal transport with the peripheral systems required there, such as terminals or depots. Ideal partners would be software and/or consulting firms in the logistics market.
Company information
| | |
| --- | --- |
| Company name | CSD Transport Software GmbH |
| Street | Kirchstraße 11 |
| Zip code | 04849 |
| City | Bad Düben |
| Country | Deutschland |
| Internet / Website | |
Contact person
| | |
| --- | --- |
| Title | Mr |
| Name | Georg Seitz |
| Position | CFO |
| Personal E-Mail | |
| Phone / Mobile | |
| Language | English, Deutsch |
PROJECTS
| | |
| --- | --- |
| Project List | LES Brasilien 2023 Smart City |
| Projects WebSite | |