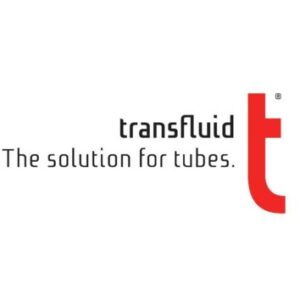 transfluid Maschinenbau GmbH
German companies
Summary
| | |
| --- | --- |
| Short Business Description | Many promise solutions. We are the solution. We are transfluid®. The solution for tubes. |
General information
Company profile

transfluid® is an internationally preferred partner for the production of pipe machining and bending machines. We have been developing our pipe machining technologies in a customer-centric manner since the company was founded in 1988.With transfluid®, you bring high end technology to your production. Our solutions, services and systems are attuned to what you need to produce on the world market level. For your requirements and even more complex challenges, for individual units or serial production in consistently high quality – with custom, high-tech developments or our high-performance machine standards: transfluid® has the solution to advance your ideas.

Products & Services

– t work: Mobile and compact tube bending machines
– t bend: CNC operated tube bending machines
– t form: Tube forming machines
– t cut: Tube cutting machines
– t motion: Automation systems
– t project: Software
– tu go: Stock and used machines

Target group

– Automotive
– Supply technology
– Hydraulics and Engineering
– Aerospace
– Medical equipment technology
– Ship building and plant production
– Furniture industry
– Metalware industry

Competitive advantages

Our strong team of employees is a guarantee for success for new developments and innovations. Another is the openness in sharing experiences and thoughts with other experts at events such as our innovation days.
Company information
| | |
| --- | --- |
| Company name | transfluid Maschinenbau GmbH |
| Street | Hünegräben 17-24 |
| Zip code | 57392 |
| City | Schmallenberg |
| Country | Deutschland |
| Internet / Website | |
Contact person
| | |
| --- | --- |
| Title | Mr |
| Name | Yannick Bludau |
| Personal E-Mail | |
| Language | English, Deutsch |
PROJECTS
| | |
| --- | --- |
| Project List | GAB USA 2023 Maritime Wirtschaft und Schiffbau |
| Projects WebSite | |