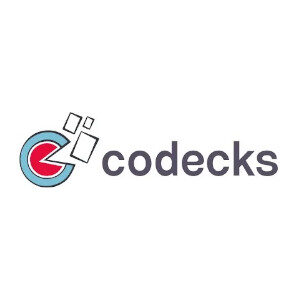 Codecks GmbH
German companies
Summary
| | |
| --- | --- |
| Short Business Description | Project Management and Community Building tool for Game Developers – by Game Developers |
General information
Company profile

Codecks was founded in 2019 to create project management software for the next generation of community-led growth companies.

Products & Services

Codecks is a web-based project management software for game developers. The software is aimed at combining the simplicity of lean tools like Trello with powerful workflow support found in more training-intense enterprise tools like Jira. It's playful unique design is inspired by trading card games, which achieve a high density of information on a small space.

References and export activities

Our application can be found at https://codecks.io

Target group

Game Developers and other creative teams.

Competitive advantages

Pragmatic workflow support allowing to signal progress and issues to the rest of the team.
Tasks inspired by card design – organized into decks and card hands.
Milestones allow sprint based methodologies and help with keeping track of deadlines.
Conversations happen in threads with an explicit list of participants. Comment threads have to be marked as resolved, to ensure no loose ends in e.g. reviews.
Powerful filtering and or

Ideal Business Partners

Game Developers who are interested in using Codecks.
Company information
| | |
| --- | --- |
| Company name | Codecks GmbH |
| Street | Singerstr. 109 |
| Zip code | 10179 |
| City | Berlin |
| Country | Deutschland |
| Internet / Website | |
Contact person
| | |
| --- | --- |
| Title | Mr |
| Name | Riad Djemili |
| Position | CEO |
| Personal E-Mail | |
| Language | English |
PROJECTS
| | |
| --- | --- |
| Project List | GAB USA 2023 Gaming-Industrie |
| Projects WebSite | |