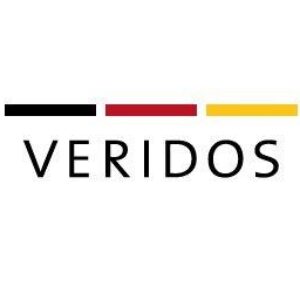 Veridos GmbH
German companies
Summary
| | |
| --- | --- |
| Short Business Description | Veridos supports Governments and related stakehoders with secure, reliable, and holistic identity solutions, expert guidance, and future-proof technology to enable local infrastructure and empower citizens worldwide. |
General information
Company profile

Veridos is a German company is headquartered in Berlin with an office in Munich. It is a Joint Venture between Giesecke + Devrient and Bundesdruckerei. Shareholder structure: Giesecke+Devrient 60%, Bundesdruckerei 40%

Veridos has Subsidiaries, production sites, and local representatives in the United States, Canada, Mexico, Greece, Singapore, the United Arab Emirates, and beyond and employs more than 600 people worldwide.

Our production site in Greece, Veridos Matsoukis SA Security Printing is specialized in the production of identification documents and any other forms of security printing documents. The company is located in Athens, and has been part of Veridos since 2015.

Products & Services

Veridos offers holistic identity solutions along several dimensions: Identification Documents, Identity Management Solutions, Verification and eGovernment.

Especially in our Business Line Verification, we focus on key elementary areas targeting your needs:
Document Verification and Biometric Identification – stand-alone and in end-to-end solutions targeting use cases in the area of :
High Security Access Control, Border Control, Migration Management, Law Enforcement and Desaster Identification.

Our mission is to deliver end-to-end solutions and services to meet every government identity need. These range from paper to security printing, electrical chip components, enrolment, personalization and issuance, mobile ID solutions, and border control solutions including eGates. Governments can acquire best-in-class passports, ID cards, driver's licenses, and more, or even the facilities to manufacture their own.

Our broad portfolio gives us the rare ability to cover the full identity value chain at the scale or complexity required. We consult our clients to provide bespoke identity solutions with a high certainty of success. This means maximum security and at the same time convenience for customers and citizens, as we provide support through increasing complexity while securing the future viability of ID infrastructures.

References and export activities

Luxembourg's contemporary, fast and safe border control solution:
Veridos is the provider of eGates for automated border control procedures at Luxemburgs Interational Airport

Morocco National Border Control System:
The Kingdom of Morocco awarded Veridos the contract for designing and implementing a national border control system for land border posts, airports and sea ports. The contract also covers all IT infrastructure required for the project equipping all relevant airports, sea ports and land border posts with more than > 1,200 work stations, 140 mobile kits and 2 data centers in less than a year.

High security access control at Munich Security Conference:
Veridos is once again supplying the security technology for access control at the Munich Security Conference (MSC), which took place at Bayerischer Hof Hotel from 18th to 20th February. It includes both access cards and the Veridos eAccess solution, which conveniently identifies visitors as they pass through the access gates. The list of participants at the annual Security Conference includes high-ranking heads of state and government, representatives from the business community and key decision-makers from the global security community in Munich. Verification of the cards is provided by the Veridos eAccess solution from Veridos. As participants pass through the highly secure gates, they authenticate their identity using advanced biometric facial recognition technology. Due to the emergency situation caused by Covid-19, extra checks are made at the gates to ensure that all participants have the necessary authorization documents ready for entry.

VeriDNA® provides governments with a comprehensive technology package for the verification of individuals that simultaneously protects privacy, can be used in the field on a mobile basis and complies with all the necessary quality and security standards.
Thanks to the technology embedded within it, VeriDNA® is the world's first solution to create forgery-proof identifiers based on the biometrics of human DNA and to integrate them into ID lifecycle management. This technology targets desaster victim identification at one end, but can also be integrated into Border Control procedures in order to combat crime, such as human trafficking.

Target group

Governments, Governmental Agencies, Stateprinters, Security Authorities, International Agencies, Ministries, Border Authorities…

Competitive advantages

Veridos inherits the expertise of more than 400 years of experience from its mother companies Giesecke + Devrient (1852) and Bundesdruckerei (1879). As a holsitic provider of identity solutions, Veridos combines the expertise of identity document security printing together with the machine readable and electronic security elements, with the counterpart on the verification side of these elements. Therefore, Veridos is the best partner for document verification, in combination with biometric verification and identification of people. We combine a high degree of inhouse technology and core components with the best in class partners where required. We know and understand our customers needs and processes, therefore we tailor our solutions to best fit the customers requirements. Many years of experience have tought us to be experts in the area of identity management and customer centric solution design and implementation.

Ideal Business Partners

We at Veridos know and understand our customers needs and processes. Therefore we tailor our solutions to best fit the customers requirements. Many years of experience have tought us to be experts in the area of identity management and customer centric solution design and implementation.
Company information
| | |
| --- | --- |
| Company name | Veridos GmbH |
| Street | Prinzregentenstraße 159 |
| Zip code | 81677 |
| City | Munich |
| Country | Germany |
| Internet / Website | |
Contact person
| | |
| --- | --- |
| Title | Mr |
| Name | Michael Brandau |
| Position | Director Solution and Product Management Verification |
| Personal E-Mail | |
| Phone / Mobile | |
| Language | English, Deutsch |
PROJECTS
| | |
| --- | --- |
| Project List | GAB Griechenland 2022 Zivile Sicherheitstechnologien |
| Projects WebSite | |