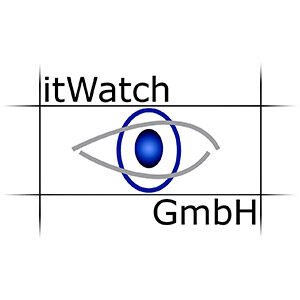 itWatch GmbH
German companies
Summary
| | |
| --- | --- |
| Short Business Description | itWatch stands for innovative IT security "made in Germany" with a focus on Endpoint Security (EDR) and Data Lock with Data Laundering (CDR) |
General information
Company profile

itWatch produces patented IT security. The focus is on protection against data theft (Data Loss Prevention – DLP), technical chains of trust from the keyboard to the data, their organisational embedding through legally binding dialogues, end device security (Endpoint Security), the solution itWash, a data lock with data sanitising and workflow, as well as mobile security and encryption. The first products were developed as early as 1997. The solutions of itWatch are characterised by unique selling points worldwide. The focus is on cost-efficient, secure solutions with an excellent ROI.
http://www.itwatch.de

Products & Services

itWatch Enterprise Security Suite (itWESS) – for Endpoint Security and Data Loss Prevention
With the itWatch Enterprise Security Suite, your company data is always and everywhere protected against theft: The solution offers cyber defence for PCs and in the cloud, as well as endpoint security, data loss prevention, mobile security, device control and protection against malware. The basis for this is the security policy, blacklists and whitelists, innovative encryption mechanisms for all data and audit-proof logging of activities.

itWash – data lock with data laundering and workflow
In companies, data of uncertain origin often has to be taken over without knowing whether this data can cause damage. For example, in the personnel department, mail attachments, Internet downloads…

ItWash is an innovative security solution for all industries and usage scenarios. The system maps the most diverse security standards to SECRET at the touch of a button.
http://www.itwash.de

References and export activities

itWatch has references in the South American banking sector and with public clients, among others.

Target group

The products meet the needs of large customers, medium-sized businesses and government agencies. The patented products have worldwide unique selling propositions that make itWatch the leading provider in the DLP/endpoint security sector, meeting the requirements of the intelligence community as well as proving its suitability in many medium-sized installations and large customers with over 100,000 licences.

Competitive advantages

itWatch has references in the South American banking sector and public sector customers

Ideal Business Partners

Distribution and Reseller serving highly cybersecurity interested clients like central intellicence, military forces, etc.
Company information
| | |
| --- | --- |
| Company name | itWatch GmbH |
| Street | Aschauer Str. 30 |
| Zip code | 81549 |
| City | München |
| Country | Deutschland |
| Internet / Website | |
Contact person
| | |
| --- | --- |
| Title | Ms |
| Name | Christina Koke |
| Position | Sales Manager |
| Personal E-Mail | |
| Phone / Mobile | |
| Language | English |
PROJECTS
| | |
| --- | --- |
| Project List | GAB Argentinien 2023 Zivile Sicherheit |
| Projects WebSite | |