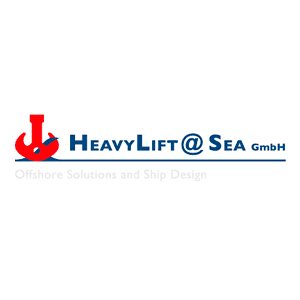 HeavyLift@Sea GmbH
German companies
Summary
| | |
| --- | --- |
| Short Business Description | Specialized in the design, consultancy and planning of shipbuilding. |
General information
Company profile

Founded in 2012, HeavyLift@Sea GmbH is a company of currently 12 highly qualified professionals in Naval Architecture and Marine Engineering with a longtime experience and knowledge in the international shipping and shipbuilding industry. As system provider, we offer a broad range of services, starting from designing and sketching new ships and ship conversions to calculating various ship bearings, lifting tools and consultancy for shipbuilding, offshore wind and offshore oil & gas platforms. Our service is based on a holistic approach that integrates optimization potential and risks into considerations and developments from the very beginning.

Products & Services

Ship Design:
– Initial Design/ Concept
– Basic Design
– Detail Design
Engineering services:
– Ship Theory (DP-capability analysis, intact stability, leakage stability, heeling test)
– Hydrodynamics (mooring analysis, motion analysis, RAO determination, CFD optimization)
– Structural & strength (global FE models and calculations, local structural calculations, design and calculation of foundations)
– Conversions and support of operating fleet (DP, integration of balast water treatment or exhaust gas treatment, change of purpose)
– Other services as technical project management, experitise, updating ship documents
– Sietas loading system (all-round service)

References and export activities

– Established basic design for Deckcarrier Vessel Boldwind
– Project management for installation gas prod. platform in Alaska
– Issue and calculation of global FE-model, conversion from MODU to SPS, performance of inclining test
– Design of an outboard boom system for transporting rotor blade stacks on the side of an offshore wind installation vessel
– Design of special tools for the handling of seawater intake systems of a F

Target group

Shipping companies, shipyards, offshore industry (wind, oil and gas), transport provider, ship operators, engineering service provider

Competitive advantages

– Highly qualified professionals with great expertise of working in shipyards and in shipping companies, combined with young engineers who bring new ideas
– Drawings in 2D and/or 3D as a matter of course
– Short communication and decision-making channels speed up our work
– An open corporate culture, mutual support and exchange of experience are a matter of course for us
– No task is too small and almost nothing is too big for

Ideal Business Partners

Shipping companies, offshore energy providers, or transportation companies that want a customized vessel to meet their specific requirements or whose vessels require design modifications.

Shipyards that need assistance with detailed or basic design or can offer heavy lift shipbuilding capabilities.

Companies that offer crane construction according to design documents.
Company information
| | |
| --- | --- |
| Company name | HeavyLift@Sea GmbH |
| Street | Veritaskai 2 |
| Zip code | 21079 |
| City | Hamburg |
| Country | Germany |
| Internet / Website | |
Contact person
| | |
| --- | --- |
| Title | Mr |
| Name | Hendrik Gröne |
| Position | Managing Director |
| Personal E-Mail | |
| Phone / Mobile | |
| Language | English, Deutsch |
PROJECTS
| | |
| --- | --- |
| Project List | GAB Japan 2022 Maritim |
| Projects WebSite | |