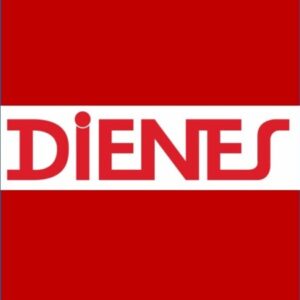 Summary
| | |
| --- | --- |
| Short Business Description | Manufacturer specialized in the development and implementation of small and medium-sized heaters and radiant heaters for industrial use. |
General information
Company profile

DIENES is a German small company with tradition, founded 1930 by Fritz Dienes and located in Mühlheim/Main near Frankfurt/Main. DIENES employs 35 people (mainly engineers and technicians) and has an annual turnover of roughly 5-6 million EUR.
Our customers are working in the development of cutting-edge fibre products and we support them from the first laboratory tests to the modular construction of their production lines.
Innovative technical textiles are produced and improved with DIENES spinning systems. We are aware that growing demands on the varying quality of recycled feedstock and the achievement of a consistent fibre performance require a continuous development and optimisation of both technology and production parameters.
With their broad experience in all spinning technologies, DIENES engineers will help you turn your ideas into functioning plants.

Products & Services

A reliable development of textile and technical filament yarns demands an efficient, systematic and, in part, self-optimising experimental working system, which must be intelligent and flexible. Our approach to meet such demands is called MultiMode®: each process step is represented by a module which can be individually adapted to customer-specific requirements and has its own decentralised control. DIENES production lines consist of several intelligent modular units which can be easily exchanged and rearranged at any time with a reduced programming effort. Moreover, all production parameters can be permanently visualised and recorded, enabling a complete traceability of the process.
Our engineering and quality criteria meet the highest standards. Recently, DIENES has successfully delivered a wet spinning plant to a manufacturer of pharmaceutical products. This plant was validated according to GMP guidelines and GAMP standards.

Target group

Research teams (at universisities, reasearch institutes and industrial companies) developing new products and production processes in the field of textile and technical fibres.
A specially interesting field is the development of innnovative biobased fibres (cellulose).
Customers aiming to develop new products/processes from pilot plant scale to small industrial production wet spinning lines up to 1000-3000 tonnes per year.

Competitive advantages

MultiMode® lines are fully modular lines unique on the market.
Dienes's team supports wtih its know-how in machine design turning the ideas from the research team into working solutions.
SIGNUP
| | |
| --- | --- |
| Nickname | Dienes_Apparatebau |
PROJECTS
| | |
| --- | --- |
| Project List | GAB Kanada 2022 Technische Textilien |
| Projects WebSite | |