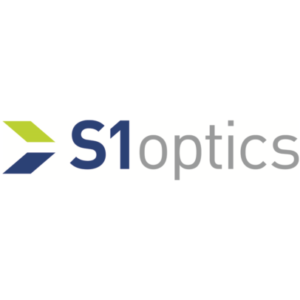 S1 Optics GmbH
German companies
Summary
| | |
| --- | --- |
| Short Business Description | S1 Optics GmbH develops, produces and inspects optical functional coatings on the substrate materials glass and metal. |
General information
Company profile

S1 Optics GmbH – The Coating Company

Since our spin-off from the IST Metz group in 2001, we have been both a service provider for high-quality coatings and a supplier of complete solutions. We develop and produce optical functional coatings on the substrate materials glass, metal and plastic. You can obtain both dielectric and metallic coatings from us.

We offer the complete process chain from consulting, design, procurement of substrate material to mechanical processing and packaging. Our measurement methods and inspections are at hand to analyze the optical coatings according to customer requirements or established standards.

Reliable processing of orders, a high degree of flexibility as well as a broad expertise guarantee a long-term cooperation based on partnership.

We will find the right way from your idea to your product.

Products & Services

Different substrate sizes, shapes and materials allow a variety of products with a wide range of optical functional coatings.

• HR coatings on metal and glass
• AR coatings on glass and ceramics
• Metallizations on glass, ceramics, metal and plastics
• Filters/beam splitters on glass:
– Short/long pass filters
– Dichroic beam splitter
– Neutral filter
– Bandpass filter
– Notch filter
• Services according to norm:
– Analytics
– Spectroscopy
– Climatic tests
– Coating quality
• Additional services:
– Sourcing of the substrate material
– Qualified cleaning processes
– Mechanical processing (cutting, engraving, marking)
– Special packaging

References and export activities

Global export, but mostly within the DACH region,
We have already cooperated with the Israeli market in the past on various projects in the field of UV technology.

Target group

Our functional coatings are mainly used in the following industries and applications:
• Optical industry
• UV technology (print, industrial, water disinfection)
• Measurement technology (sensors, analytics)
• Medical technology (dental, surgical, endoscopic)
• Mechanical and plant engineering (safety installations, protective windows)

Competitive advantages

• Over 20 years of experience in the coating industry
• High flexibility and responsiveness
• Customized consulting and solution finding
• Coverage of the complete process chain
• Development and production of small series and prototypes
• Coating of large substrates
• Optical measurement and testing according to standards of coated components – also from third-party production
• Extensive supplier and partner network

Ideal Business Partners

We are looking for new customers and partners in the Israeli market, whom we can support with many years of experience and expertise in the coating industry.
Company information
| | |
| --- | --- |
| Company name | S1 Optics GmbH |
| Street | Fabrikstraße 8 |
| Zip code | 72622 |
| City | Nürtingen |
| Country | Deutschland |
| Internet / Website | |
Contact person
| | |
| --- | --- |
| Title | Mr |
| Name | Steffen Schilling |
| Position | Sales & Marketing |
| Personal E-Mail | |
| Phone / Mobile | |
| Language | English, Deutsch |
SIGNUP
| | |
| --- | --- |
| Nickname | Steffen.Schilling |
PROJECTS
| | |
| --- | --- |
| Project List | GAB Israel 2023 Photonik |
| Projects WebSite | |