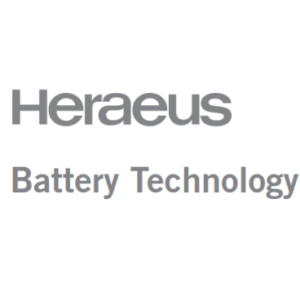 Heraeus Battery Technology GmbH
German companies
Summary
| | |
| --- | --- |
| Short Business Description | Research, development, production, distribution and marketing of products for use in energy storage systems. |
General information
Company profile

Heraeus Battery Technology, a part of the Heraeus Group, a family owned Fortune Global 500 portfolio company headquartered in Hanau, Germany, is focused on optimizing the lifetime, performance and efficiency of lithium ion batteries and other energy storage or conversion systems. Working with customers and strategic partners worldwide, we combine cutting-edge research and state-of-the-art manufacturing capabilities to develop and produce innovative battery solutions around the Porocarb® platform for automotive, industrial and consumer applications. Visit http://www.heraeus-porocarb.com for more information.

Products & Services

Porocarb® – Enhance your battery with our customizable carbon additives
Our synthetic conductive carbon additives address various energy storage systems, in particular Lithium-Ion Batteries and Fuel Cells. Until now, the design of these systems was limited by the available conductive carbon material options. Imagine a functional carbon material that is designed to exactly fit the application: This is exactly where Porocarb® comes into play.

Target group

The Porocarb® product platform targets Lithium Ion cell manufacturers and automotive and consumer OEMs with own lithium ion cell R&D or manufacturing.

Competitive advantages

Porocarb® is an innovative platform of synthetic macro-porous carbon materials. The single particles of Porocarb® contain a well-defined network of interconnected macro-pores which can be filled with electrolyte, serving as reservoirs, transport routes. This provides an innovative design factor delivering benefits for next generation systems.
Company information
| | |
| --- | --- |
| Company name | Heraeus Battery Technology GmbH |
| Street | Reinhard-Heraeus-Ring 23 |
| Zip code | 63801 |
| City | Kleinostheim |
| Country | Deutschland |
| Internet / Website | |
Contact person
| | |
| --- | --- |
| Title | Mr |
| Name | Michael Grimm |
| Position | CEO |
| Personal E-Mail | |
| Phone / Mobile | |
| Language | English, Deutsch |
PROJECTS
| | |
| --- | --- |
| Project List | GAB USA 2022 E-Mobility |
| Projects WebSite | |