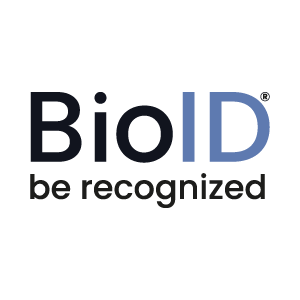 Summary
| | |
| --- | --- |
| Short Business Description | BioID is a German biometrics company that offers its proprietary facial recognition and liveness detection through the BioID Web Service. |
General information
Company profile

BioID is a German biometrics company, that originated 1998 from the renowned research institute Fraunhofer IIS. With more than 20 years of experience and a strong research focus, the company has always been at the forefront of innovation. The pioneer for cloud biometrics, BioID provides its proprietary facial recognition and liveness detection through the BioID Web Service (BWS). The algorithms work hardware independently using any standard smartphone or web camera. Privately held, BioID's technologies have been proven through many years of use at banks, governments and private companies worldwide.

Products & Services

BioID offers facial authentication, identity verification & liveness detection as a Service. ISO 30107-compliant technology is used worldwide to prevent identity fraud. A device-independent software, BioID's biometrics are implemented for automated onboarding (KYC), authentication of remote workers (WFH), Multi-factor-authentication (for IDAM) and other applications requiring verification of user presence.

The BioID Web Service comprises the following proprietary technologies:

Liveness Detection – "Are you really there?": Patented anti-spoofing fake detection against photo and video replays for preventing identity fraud, e. g. for legally binding actions or financial transactions

PhotoVerify – "Are you the one on the ID?": Automated verification of ID ownership through comparison of ID and person, e. g. for AML/KYC compliant identity proofing when opening a bank account

Verify – "Are you who you say you are?": 1-to-1matching for biometric authentication, e.g. for online login, etc.

References and export activities

• Digidentity (The Netherlands) for Gov.UK Verify (GB)
• Hooyu (GB)
• ARIADNEXT (France)
• PrivyID (Indonesia)
• Oititec (Brasil)
• Comcorp (South Africa)
• Multiple German BPOs
• Banks in New Zealand, South Africa and UK

Target group

• Banks and Fintechs wanting to optimize their automated customer onboarding
• Any company requiring remote authentication for their employees or customers (IDAM, account recovery, WFH session control)
• Solution providers requiring KYC compliant selfie verification

Competitive advantages

• Biometrics as a Service – available from anywhere, with any device
• ISO/IEC 30107 compliant Liveness Detection (Anti-Spoofing)
• 100% proprietary technology, Made in Germany
• Device-independent and software-based
• Patented periocular recognition (for facial recognition with face masks)
• More than twenty years of experience in R&D for biometrics
• Proven through use in companies, banks and governments worldwide

Ideal Business Partners

We participate in this programme to find partners for creating value added biometric authentication solutions. With our solutions, we aim to power trusted remote identity verification, e-signing, work-from-home authentication and any other application requiring user presence.
Company information
| | |
| --- | --- |
| Company name | BioID |
| Street | Bartholomäusstr. 26D |
| Zip code | 90489 |
| City | Nürnberg |
| Country | Deutschland |
| Internet / Website | |
Contact person
| | |
| --- | --- |
| Title | Ms |
| Name | Alexandra Atsüren |
| Position | Marketing Manager |
| Personal E-Mail | |
| Phone / Mobile | |
| Language | English, Deutsch |
PROJECTS
| | |
| --- | --- |
| Project List | GAB Portugal 2023 Zivile Sicherheit |
| Projects WebSite | |